---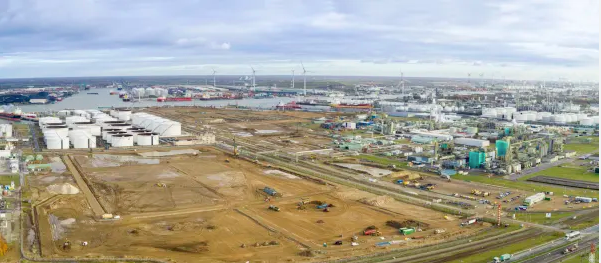 Project ONE is the largest investment in the European chemical sector for a generation.
The new cracker located in Antwerp will have the lowest carbon footprint of all European crackers, five times better than the worst in Europe and two times better than the best.
Jason Meers, CFO INEOS Project ONE says: "This is an incredibly important moment for INEOS. Our ethane cracker will set new environmental standards for Europe as well as help revitalize the whole of the European chemical industry."
INEOS Olefins Belgium has today announced it has raised €3.5 billion to support the construction and operation of the most environmentally sustainable cracker in Europe.
This is the largest investment in the European chemical sector for a generation. The plant will have the lowest carbon footprint in Europe, three times lower than the average European steam cracker, and less than half that of the 10% best performers in Europe.
The plant also has the capability of operating entirely with low carbon hydrogen as well as room for a carbon capture facility and future electric furnaces.
Jason Meers, CFO INEOS Project ONE says "Project ONE is a game changer for Europe. It will bring new opportunities to the chemical cluster in Antwerp as well as strengthen the resilience of the whole of the European chemical sector". 
Supported by 21 commercial banks, the deal validates the strong commercial rationale of the project and its leading environmental characteristics. The debt will be drawn in stages to support the spend profile of the project through to completion.
It comprises €1.5 billion of uncovered debt, €1.2 billion of covered facilities from export credit agencies UKEF, Cesce and SACE; and an €800 million covered tranche of which up to €500 million is guaranteed by Gigarant (a vehicle of the Flemish Government that provides loan guarantees).
Jason Meers, CFO INEOS Project ONE adds: "We are thrilled to reach this milestone and secure this funding.  Bringing together such a large number of environmentally focused commercial banks alongside four governmental agencies demonstrates the huge importance of the project.   
The cracker will produce ethylene, which is a vital raw material for a wide range of products essential to our daily lives, from insulation, to lightweight vehicles, plastics for medical, healthcare and food hygiene, as well as technology for renewable energy.
Contact
Richard Longden ()  
Tel.: +41 7996 26123
E-Mail: [email protected]
About INEOS
INEOS is a global manufacturing company making the raw materials and energy used for everyday life. Its products make an indispensable contribution to society by providing the most sustainable options for a wide range of societal needs. For example, preservation of food and clean water; construction of wind turbines, solar panels and other renewable technologies; for construction of lighter and more fuel-efficient vehicles and aircraft; for medical devices and applications; for clothing and apparel; and for insulation and other industrial and home applications.
INEOS businesses have put in place the plans and actions needed to ensure that they lead the transition to a net zero economy by no later than 2050, whilst remaining profitable, and staying ahead of evolving regulations and legislation. As part of its greenhouse gas emission reduction strategy, there is a widespread goal to move to a more circular economy, in which materials are re-used to their maximum extent.
About Project ONE
State-of-art plant to produce ethylene, one of the most widely used basic chemicals in the world. Lowest carbon footprint of all European crackers, less than half the amount of the 10% best performers
Investment of around €4 billion in port of Antwerp
2,500 workers on site at the peak of construction. 450 new jobs (300 payroll, 150 permanent contractors) and thousands of indirect jobs. Construction plant duration 4 years – start-up expected in 2026
Exceptional Investment of the Year Award (Flanders Investment & Trade, 2020)
About the financing
Total facility size is €3.5 billion including a €1.5 billion uncovered tranche, a €700 million UKEF covered tranche, a €400 million Cesce covered tranche, a €100 million SACE covered tranche and an €800 million Gigarant covered tranche, of which up to €500 million is guaranteed by Gigarant.
ABN Amro, Barclays, Belfius, BNP Paribas, Deutsche Bank, ING, Intesa Sanpaolo (also SACE Agent), KBC (also Gigarant Agent), MUFG and NatWest acted as Bookrunners and Mandated Lead Arrangers. Credit Agricole (also uncovered and UKEF Agent), Commerzbank, Goldman Sachs, HSBC, JP Morgan, KfW IPEX-Bank and Santander CIB (also Cesce Agent) acted as Mandated Lead Arrangers. Banco BPM, Citi, DZ BANK and Mizuho Bank were participants.
INEOS was advised by BNP Paribas and Linklaters. Counsel to the lenders was Allen & Overy, with ING coordinating the ECAs and KBC coordinating the Gigarant covered tranche.
---
Source:
INEOS, press release, 2023-02-13.
---
---