---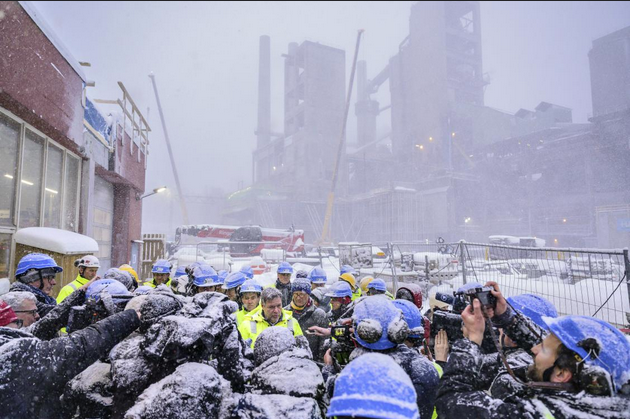 Climate protection, and the technological solutions required to achieve it, were the focus of a special visit to our flagship Brevik CCS project on January 6: Dr. Robert Habeck, German Vice Chancellor and Federal Minister for Economic Affairs & Climate Action, Terje Aasland, Norway's Minister of Petroleum & Energy, and Jan Christian Vestre, Norway's Minister of Trade & Industry, toured the site together with our CEO Dr. Dominik von Achten and Giv K. Brantenberg, General Manager Northern Europe. During his visit, Robert Habeck emphasized the potential of Carbon Capture, Utilisation and Storage (CCUS) as a key lever to bring emissions down.
Brevik CCS: A pioneering project
The special importance of carbon capture technology for the industry was also highlighted by Dominik von Achten: "CCUS is the key technology to decarbonize our product – and eventually our sector. Having the building materials industry's most ambitious CO₂ reduction targets and a steadily growing portfolio of CCUS projects, Heidelberg Materials is an integral player in solving the climate change challenge. And: Our project in Brevik is leading the way globally." Giv Brantenberg stated that "the visit was indeed a vote of confidence and a strong inspiration for us. It underlines that this project is pioneering, that we have support from key stakeholders, and that we are on the right path".
World's first full-scale carbon capture plant in the cement industry
In Brevik, Heidelberg Materials is currently building the world's first industrial-scale carbon capture plant in the cement industry. From 2024 onwards, we will capture and store 400,000 tonnes of CO₂ per year, representing 50% of the plant's annual emissions. Two years into the project, it is progressing well, thanks to clear government support, the social acceptance of CCS technology in Norway, and successful cooperation with the authorities.
To date, a considerable proportion of carbon emissions generated in the process of cement manufacturing is unavoidable and cannot be tackled using established techniques. Carbon Capture, Utilisation and Storage is therefore a necessary prerequisite to achieving net-zero carbon emissions in our sector. Heidelberg Materials is investing 1.5 billion EUR in CCUS projects until 2030.
---
Source:
Heidelberg Cement, press release, 2023-01-10.
---
---