---
Nestled among the sun-lit trees on the east side of Arizona State University's Tempe campus is a different kind of tree. It's a first-of-its-kind mechanical tree, primed to become a major technology in the global fight against climate change. The tree features a metal column and 5-foot diameter disks, with each disk holding six "leaves." If widely deployed, many of these trees could have a positive impact on our planet by mitigating the carbon dioxide in the atmosphere.
The first commercial-scale "MechanicalTree" is being installed on a test pad just north of the Biodesign C building. The tree there is based on the research of ASU engineering Professor Klaus Lackner, a founder of the idea of direct air capture for the removal of carbon dioxide from Earth's atmosphere. Lackner has been working with Carbon Collect Ltd., from Dublin, which has taken Lackner's pioneering ideas and will make commercially available devices for the removal of carbon dioxide from the air.
When completed and operational, the MechanicalTree at ASU will rise to a height of 33 feet (10 meters) to collect carbon from ambient air. Once loaded with carbon, it will retract into a canister that is 9 feet (2.7 meters) tall, where it gives up the carbon drawn from the air.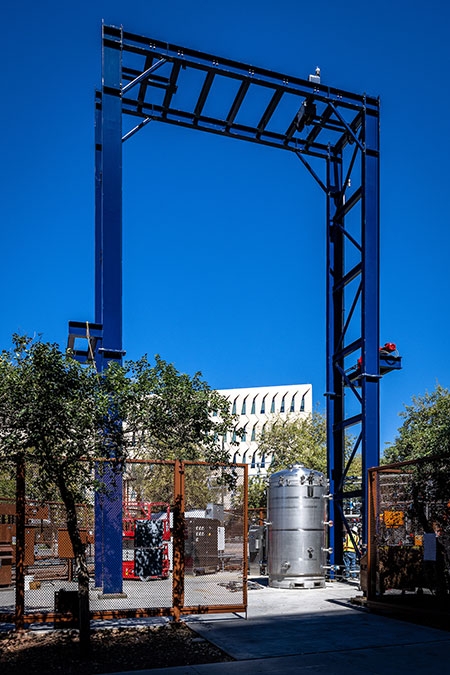 Unlike other carbon-capture technologies, Carbon Collect's MechanicalTree technology can remove CO2 from the atmosphere without the use of blowers or fans. This makes it a passive, lower cost and scalable solution that is commercially viable. When deployed at scale, the technology could help humans curb the growing amount of greenhouse gases in Earth's atmosphere and, thus, help to combat the effects of global warming.
"Carbon dioxide is a waste product we produce every time we drive our cars or turn on the lights in our homes," Lackner said. "Carbon Collect's MechanicalTree can recycle it, bringing it out of the atmosphere to either bury it or use it as an industrial gas."
"Our goal is to accelerate the global climate effort, as set out in UN Climate Change conferences to contribute to reversing global carbon emissions," said Pól Ó Móráin, chief executive officer of Carbon Collect. "Our passive process is the evolution of carbon-capture technology, which has the ability to be both economically and technologically viable at scale in a reasonably short time frame."
Reyad Fezzani, vice chairman of Carbon Collect, added: "We plan to scale the technology starting with a series of direct air capture 'carbon farms' designed to capture roughly 1,000 tons of CO2 per day."
When the tree-like column is fully extended and its disks spread apart, air flow makes contact with the disk surfaces and the CO2 is bound up by a special sorbent material. During regeneration, the disks are lowered inside the canister. Inside the chamber, the CO2 is released from the sorbent. The released gas is then collected, purified, processed and put to other uses, while the disks are redeployed to capture more CO2.
The tree on ASU's campus, when operated continually, is expected to remove up to 200 pounds (90 kg) of carbon per day.
Carbon dioxide is an odorless, colorless gas that is a byproduct of burning fossil fuels and other natural processes. Humans release more than 36 billion metric tons of CO­2 into the atmosphere annually, significantly changing Earth's natural carbon cycle. The excess carbon dioxide traps heat and causes global warming. Humans have been adding atmospheric carbon by as much as 2.5 ppm annually.
"We had the opportunity to solve this problem 40 years ago," Lackner said about carbon dioxide in Earth's atmosphere, which is now increasing past a concentration of 420 ppm. "We now seem to have locked into the problem. We are going to have to pull some of the carbon out of the atmosphere in order to balance this."
Carbon Collect's team comprises leading individuals from business and science. The company holds exclusive global rights to key innovations of Lackner at ASU. The company has designed, engineered and fabricated the MechanicalTree and sponsors ongoing research on carbon removal at the university.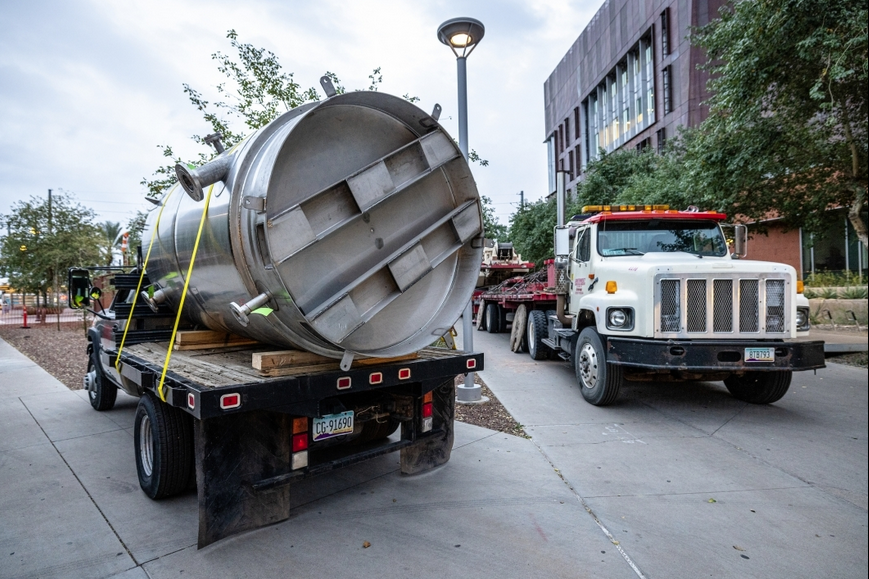 ---
Source:
Arizona State University, press release, 2022-04-15.
---
---