---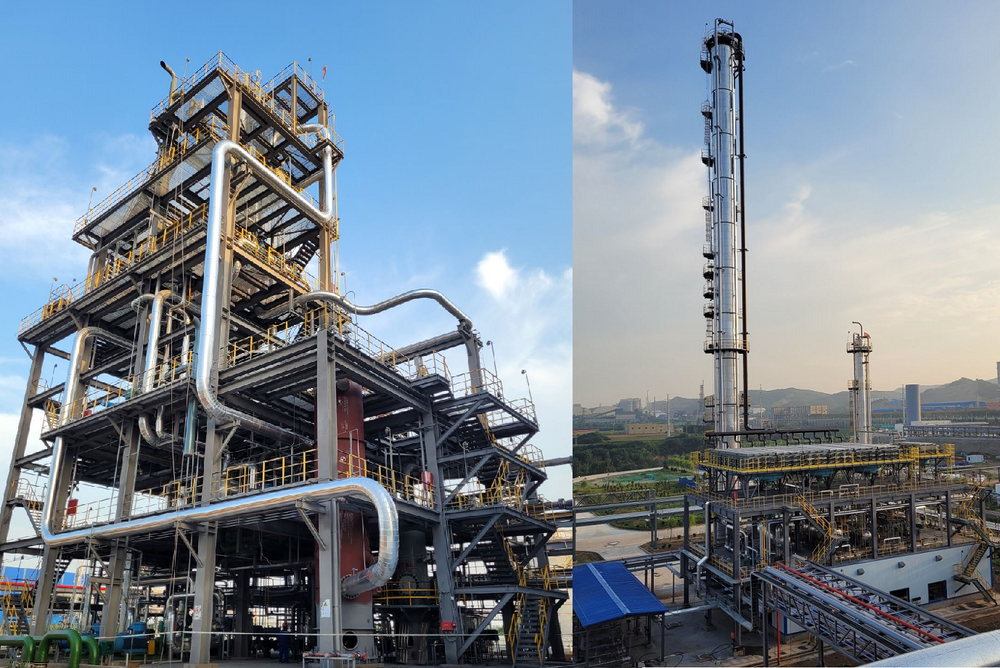 In October 2022 Carbon Recycling International completed commissioning of a new CO2-to-methanol production facility located adjacent to a coke oven gas production (COG) in Anyang city, Henan Province, China. The plant is the world's largest production of fuel from captured CO2 emissions with a capacity of 110.000 tons low-carbon intensity methanol per year. The total investment in the Shunli plant design and equipment is USD 90 million with funding raised through debt-and equity financing. The Shunli plant is owned by CRI shareholder Geely Tech., Shuncheng group, Shunju, Shunfeng and MFE Shanghai.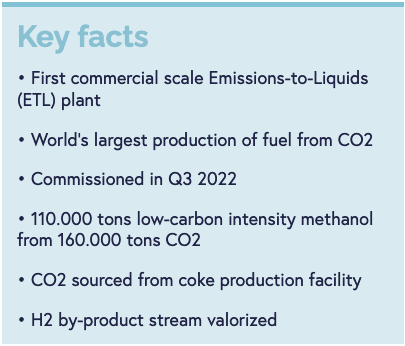 The coke-oven facility, operated by Chinese chemical company Henan Schuncheng Group, produces metallurgical coke. Energy-rich and free of volatile compounds, the coke is then used as a raw material for steel manufacturing. The main elements formed as by-products is the coke oven gas containing CO2 hydrogen and methane. In the Shunli plant, CRI's Emissions-to-Liquids platform (ETL) is an addition to a new coke oven gas treatment facility, to recover energy and create value from these by-products. Recycling 160.000 tons CO 2 per annum, the Shunli plant greatly reduces the emissions associated with steel production and supplies local corporations with clean fuel and chemical in the form of low-carbon intensity methanol.
Construction was completed in mid-2022 and commissioning took place during Q3 2022. In addition to becoming a vital part of the local economy, creating 80 jobs and valorizing industrial waste streams previously emitted, the Shunli plant represents an important milestone in the development of Chinese industry towards circular value-chains.
---
Source:
Carbon Recycling International, press release, 2023-04-17.
---
---